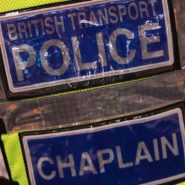 Chaplaincy Making A Difference
Thank you, who ever nominated Railway Mission Chaplains We are...
Posted by:
Liam Johnston
Posted on:
May 23, 2018
Thank you, who ever nominated Railway Mission Chaplains
We are both humbled and delighted in equal measure, that the Railway Mission Chaplains were nominated for the Community Volunteer award in recognition of the support and care they gave to British Transport Police (forcewide) in the aftermath of last year's terrorist incidents. Following consideration of the nominations by the judging and moderation panels our team have been selected as a finalist in this category.
British Transport Police launched their 2018 Make the Difference annual awards earlier this year to recognise individuals and teams from across British Transport Police who every day go above and beyond, display great professionalism, courage, innovation and dedication – as the Chief Constable say "put simply those who consistently go above and beyond and represent the best of British Transport Police."
The Community Volunteer award recognises an outstanding level of commitment which has delivered a direct positive impact on British Transport Police service to the public.
Three finalists have been shortlisted and the winners will be announced at the Make the Difference Annual Awards Ceremony on Tuesday 26 June 2018.
Well done everyone who has gone the extra mile and thank you for all your support.