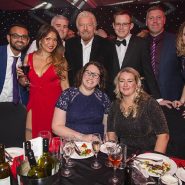 Forward to 2020
It is often said that Christmas is a time for...
Posted by:
Railway Mission
Posted on:
December 24, 2019
It is often said that
Christmas is a time for family and friends; for Railway Mission family can also
refer to the railway companies we serve. One example of this was the recent
North West Partner Award, given to Mike Roberts by Virgin Trains.
Pictured here with some of the Virgin Trains team, Mike was honoured to receive the award for the work he has been doing as a Railway Mission Chaplain. Part of the introduction to this award, said "The Partner Award is a special one, because there are so many people in the extended Virgin Trains family that we couldn't be without… Tonight's winner is someone who embodies the Railway Mission…" "He's built incredible relationships with our people, offering a helping hand or a listening ear, making the Railway Mission an integral part of the Anglo Scot team."
As of 8th December 2019, Avanti West Coast – the new InterCity West Coast Partnership – has officially taken over the West Coast Franchise from Virgin Trains. As we enter 2020, we can look back at what has been or we can look forward to what will be. This is, as you may know, related to the meaning of the Italian word Avanti, which can mean 'forward or let's go'. 
As we move forward, we should move together, railway companies and railway chaplaincy, together in partnership and as we do, as chaplains and representatives of Christ, we should carry the spirit and ideal of the Christmas message with us. That through the 'Virgin' God himself came to dwell with people that we could join with Him and be part of his family and move forward together.