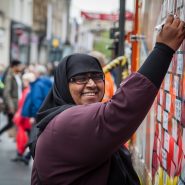 Join RUOK? city event on March 10th – as a We Citizen Volunteer!
RUOK? partnership Our RUOK? partnership is back out in Leicester...
Posted by:
Railway Mission
Posted on:
February 28, 2018
RUOK? partnership
Our RUOK? partnership is back out in Leicester next month with an event in the city's Haymarket Shopping Centre – and you could be part of it.
Volunteers are sought to give two hours or more of their to support the campaign that's been dubbed 'a breakthrough in getting people talking about mental wellbeing'
And the great news is you will be supported by the Trust to get involved, as you can claim the time back through the LPT We Citizen scheme.
RUOK? is a partnership of health, police, rail, local authority and third sector organisations across Leicester, Leicestershire and Rutland.
Now in its third year, the campaign supports mental wellbeing through short conversations – asking people RUOK? and encouraging them to ask others.
We will be in the Haymarket centre and bus station from 10am until 4pm engaging shoppers in short co
nversations to show how a kind word or small act can help boost the wellbeing of others.  Support will also be on hand in quiet areas for people who need further one to one support.
Volunteer
Volunteers work together and are briefed before and debriefed after each event. Feedback from colleagues who have supported previous events has been overwhelmingly positive.
To register your interest please email Claire.moore@leicspart.nhs.uk
Can't make the event?
You can show your support on the day by following our social media feed on Twitter @LPTnhs and @RUOK_Today You can also download your own RUOK? pledge wall brick, and then sign, pose, photograph and post using the hashtag #RUOKToday
Also visit the ROUKToday? Website