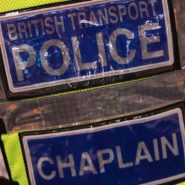 Manchester Victoria Bombing Chaplaincy Response and Support
Manchester Victoria Bombing: We continue to pray for all those...
Posted by:
Railway Mission
Posted on:
May 24, 2017
Manchester Victoria Bombing:
We continue to pray for all those affected, through the pain of loss, physical and emotional trauma. Those officers that ran toward the maelstrom to help try to save the lives of those injured. Sadly despite their best efforts, some could not be saved. Once the paramedics arrived more could be done, but for some, it was not enough.
Being at Manchester Victoria station in the aftermath of this disgusting and cowardly atrocity, I wish I could say I felt the prayer of those who prayed for the situation. But the truth is all I felt was the despair of the moment. There was a void, an emptiness born anguish that in the quietness of the station that made it feel God was distant. Perhaps this is a little of the feeling abandoned by his God that Elijah experienced. He felt alone and desperate; and sought an audience with God, hoping for answers and recognition, the story is told in I Kings 19: 9-18.
Outside the station and through the concourse of Manchester Victoria Station was the discarded remanence that lay in stark contrast to each other, a sign made to show the adoration of a fan to their hero, shoes, and clothing worn to a night out of entertainment, yet, bloodied and discarded. Medical equipment left where they were last used. Streaks of blood where the injured and dying had dragged themselves away from the steps they had fled down. Blankets from ambulance and souvenir tee-shirts used to stem the flow of blood all spoke of lives that were so tragically lost or damaged. A night that should have been one of the best memories of their lives, turned into the worst. The youngest victim to lose her life was just eight years old.
We shall continue to support the railway family, from the north of Scotland to the South of England and Wales. As chaplains, we are there for everyone and will continue to be.
Chaplaincy Response Manchester Victoria Bombing:
On receiving a call from British Transport Police (BTP) Control Centre asking for Chaplaincy Support at Manchester Victoria station following the manchester victoria bombing, I immediately booked on duty to go the location of the bombing. I had not been aware of the events, having gone to bed earlier than usual.
The control room operated said Mr Greggory (Chief Superintendent and Area Commander for C Division BTP) would like a word. Mr Greggory explained the situation and arranged for the Superintendent on site to be notified of my eta.
Arriving on site, it was my priority to be available for the first responders. These officers did far more than anyone should ever need to do. I also spent time visiting the cordons to ensure officers were all okay. BTP officers attended the site from as far as Aberdeen and Kent, bring with them the specialism needed for the forensic body recovery needed for such a terrible event.
While on the way to Manchester, I contacted a number of the Chaplaincy team and arranged for Paul Holloway, Angela Levitt-Harwood and Andrew Hall to attend the incident. I am extremely grateful to all the team for the willingness to support the officers and staff affected by this exceptionally horrific event.
Paul visited Manchester Piccadilly, just 10 minute walk from Victoria, to support staff and police there. Paul ensured he talked to all the staff on duty and spent time with the armed response units that were based at the station. Virgin Trains West Coast allowed the officers to use the facilities in the first class lounge for their breaks.
Andrew looked after the Greater Manchester Police Cordons and said.
For me it was a day of contrasts – the obvious gloom of the situation contrasting with the bright sun, and the scene contrasting with the obvious gratefulness of both BTP and GMP officers that we had turned up for them.
One of our aims was to make sure the officers were being fed and watered but the public and others (Tesco for instance) were taking care of it. One young mother got her 3 year old daughter to give me a pack of chicken.  (This was slightly marred by a reporter then trying to interview the little girl).
I have been very pleased to be associated with BTP today and incredibly impressed with every officer I encountered.
 Angela spent much of her time at Victoria Station following the Manchester Victoria Bombing. She said:
It was a privilege to support everyone today and the feedback I got was extremely positive as regards our presence on the station. It came across to me that we were very much part of the team that came together to help at this awful time and for me those are some of the biggest compliments we can be paid that we are seen as one of the workforce although of course, we come with an added extra!
Richard Cook, who is the chaplain for the area will be supporting Area HQ at Manchester Piccadilly later in the week. This follows our policy and procedure for Major Incidents.
I have received the following message from Allan Gregory Chief Superintendent BTP regarding the Manchester Victoria Bombing.
Liam
Can I thank you for your personal commitment in attending Manchester and driving through the night to offer valuable pastoral support to officers and staff around the scene of this tragedy? Your support really supplements what is available to our teams in terms of trauma support. I am very grateful for what you did for us. Another of your team, Richard Cook telephoned this morning and will be calling into Manchester teams on Friday. We feel very well supported by the Chaplaincy.
Best wishes and thank you again.
Allan Gregory, Chief Superintendent, Divisional Commander, C Division
We continue to pray for all those affected by the Manchester Victoria Bbombingand will continue to be there to support them.
Save