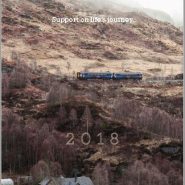 'A New Perspective' – The 2018 Railway Mission Calendar Message
The following is the 2018 Railway Mission Calendar Message If...
Posted by:
Railway Mission
Posted on:
October 30, 2017
The following is the 2018 Railway Mission Calendar Message

If you take the time to explore the railway network, travelling away from the hustle and bustle of the commuter belt you find the beauty of the world in all its grandeur.

From the mountains of Scotland to the flat expanse of Norfolk of Lincolnshire there can be few better ways to explore than by train.

You can enjoy the views, relax and unwind as the train carries you towards your destination. But as you travel by train, there is, of course, one thing you can't see; you can't see your train pounding through the countryside.

To really appreciate the sight, the power, the engineering, you need stand outside and look in. It is wonderful to travel, but sometimes it is better to stop and take a moment to appreciate the journey.

Taking time to be still is important; it can give us a new perspective on that great journey called life.

We rush about, from day to day, from home to work; we build relationships, friendships and partnerships, plan our holidays and plan our families. But sometimes we should stop, get off, and appreciate more about the journey of life than the travelling.

"Be still and know that I am God," Says the Lord, but this is not just a saying, it is a state of being.

As we learn to be still and know God's presence, we come to know and understand more about the journey we're on.

We are never alone, never without help and never forgotten. He is always here, always with you, always ready to give you a new perspective on life.

All it takes is for us to stop and to be still and know.

If you would like to know more about the presence of God and being still in his presence, we would be happy to send you a New Testament and Psalms.

We will not keep or share your name and address and will not contact you again unless you request we do so.
Save
Save
Save
Save
Save
Save
Save
Save
Save