Remembrance: A Mother's Reflection
November 11th, Remembrance Day, is important to many people for...
Posted by:
twentytwo
Posted on:
January 7, 2016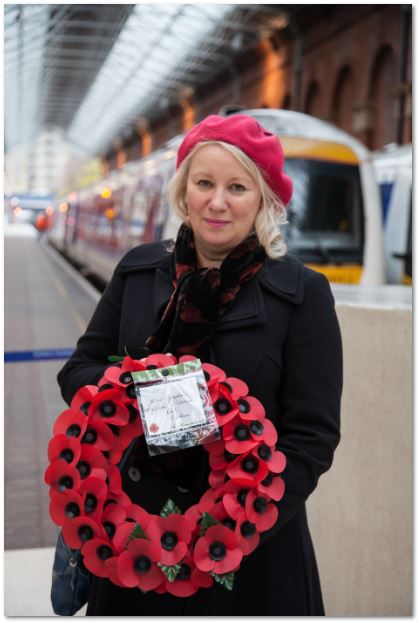 November 11th, Remembrance Day, is important to many people for different reasons; it's a way that we can silently pay tribute and honour those who gave their lives for our freedom and liberty, then and now. The First World War was horrific, with such dreadful loss of life on both sides, which has shaped the world we are today. Armistice Day is the 11th day of the 11 month at 11.00 when we, the public, observe a two minute silence to mark the end of the WW1.  Today, we also remember those who have died in other wars and conflicts.
The Poppy has become an iconic symbol of Remembrance, the inspiration for which was taken from the poem written by John McCrae, a Canadian doctor. On seeing the devastated and destroyed battle fields in Flanders that wild poppies were growing amongst, where the dead were buried, he was inspired to write a poem called "In Flanders Field"
In 2007, my 24 year old son Nick was sent on his 1st tour to Afghanistan with 40 Commando Royal Marines, and was due to spend Christmas  away from home, living on emergency rations ( not ordinary rations) in  a very remote and particularly feisty Forward Operating Base (FOB). Saying good bye to Nick was probably one of the most awful emotions I have ever felt. Nick, a strong, happy  young man, was doing a job that he is proud to do, and the thought that he  may not come back home at all or at least injured/maimed, was heart wrenching to the core. I held onto my resolve  to not break down in front of him, as it would had been  difficult for both us both and I wanted Nick to know I was being strong for him too. It would, hopefully, be a good memory for him to have when thinking of home. I wanted Nick to know also that I was so very proud of him, of the career he had chosen and for the  passion for the Royal marines. I'm sure we must had been thinking the same thoughts; would this be the last very last time I would see my beautiful son, who when as 8 year old had told me "I'm the man of the house now mummy!"
Nick is a 6ft 4 lad, very popular and up to his entry into the Marines, had played rugby for both Sudbury 1st team and Eastern Counties. A son to be very much proud of and I still am. I've had to encounter the same experience on every deployment since that Nick has made to the Middle East, and it's never easy. I understand now how it must had been for other families who have had loved ones away in war zone areas, although it must had been harder for those during the WW1 and WW2, without the technology we have today.
For security reasons, communication with my son meant that the only time we spoke would be during his allotted air time through a secured satellite line, for which meant the world to me. Sometimes I would be commuting home from work on the train, and it would be difficult to hear him, but I didn't mind. He had phoned and that was all that mattered. However, I was very aware that if there would be any devastating news, this would be broken to me face to face, at my home. If I wasn't there, the military personnel would wait for me. The media coverage would be horrific, but I learnt in time that families would be informed first of any heart breaking news before it became in the public domain. On one particular occasion, sadly I was to experience this process. Nick called me to say he was fine, and wanted me to know, just that. It was the word "fine" that stuck in my mind, as he wouldn't normally use this. Very sadly I was to learn that one of his unit, a mate, had been killed by an IED in fr
ont of him. Its standard practice for the surviving to call home to put their minds at rest, and then the news is released to the rest of the world. The awful part to this is that these guys then have to "collect" their comrade. Without wishing to write about such gruesome issues, but to understand the horror and reality of this work, it's the smell and residue to that, we as the general public wouldn't appreciate or even want to deal with. Nick doesn't talk much about this, as he subsequently coldly told me that I wouldn't want to know about what happened out here, the reality of war and therefore wouldn't want him out there again. But the thing is, I did know. To understand a bit of what Nick was going through   I was soaking up as much literature as I could to prepare myself. Some might say that this was a bit unnecessary, but in my everyday life, I carried on with the norm. That is how I coped.
Nick's last tour to Afghanistan was just as hard to bear. We didn't know of course then that it might have been, as subsequently this has all finished.  It was the same as before,
being strong in saying goodbye Jon, Nick's brother had been to stay, so that he could see him off too.  I watch from the house when they had a couple of minutes together privately, and I saw Nick hand his brother his watch. I knew then that Nick felt sure he wouldn't be coming back. This is a memory I will take to the grave. Nick knows how proud we all are of him, but he is a very unassuming and modest chap. This is his job, and that's what he does. He does it well.
Returning home on Rest & Recuperation (R & R) away from the war zone, Nick's favourite meal was a good  English Breakfast, which has now come a tradition in our household. On Christmas day, in 2007, his Christmas meal consisted of some cooked eggs bought through an interpreter from a local farmer, a real treat!  "
I had wanted to show my respect not just for Nick, but others that have supported and kept our country safe and kept our liberty that we take for granted. We all have freedom to speech and thoughts that have been earnt by other who bravely gave their lives that we today can make many choices to live a free and happy life. In 2007, standing outside Euston Station for the 11thhour of the 11th day, Remembrance Service, I decided that I wanted to get involved next year and to participate and show my support and respect, not just for Nick. I now, through the Railway Mission, represent Network Rail, my employer, at the Remembrance Service held at Marylebone Station.  I lay my wreath with pride and have a true connection in doing so I think of my Grandfather, my Great Uncles, and Nick and his "Band of Brothers"
Per Mare Per Terram.
Foot note:
My paternal Grandfather and his 4 brothers all fought in  WW1, and remarkably all came home safe, so that now, his great  grandson can keep us all safe in doing a job he believes in. He is now training new recruits at the RM Commando Camp Lympstone, and is a father to Poppy…
.