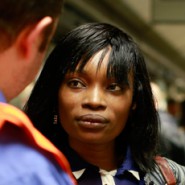 So You Want To Be A Chaplain?
We are often contacted by people who feel that being...
Posted by:
Railway Mission
Posted on:
June 10, 2016
We are often contacted by people who feel that being a railway chaplain would be just the ticket. Some have said they have always had a love of the railway, others that there is a railway heritage in the family. We have had people say that God has told them that they are to be the next railway chaplain for a particular area. We have even had one person say he would make a good chaplain because he want a railway pass so that he could see away games for his favourite football team.
Now, you may be a rail enthusiast, or your grandfather was the driver of a particular steam train, or feel God has called you to this. However, we think it might be worth pointing out the five C's of being a chaplain.
Calling … We are looking for people who are called to ministry. Nevertheless, many are called, few are chosen. The Railway Mission team need to have a sense of the call. Telling us in an interview 'God has told me this is my job and it was confirmed by prophecy in church on Sunday' will not make us choose you; and yes, we have had that said in the past.
Character … As chaplains we must be able to work in harmony, share information. We are looking for chaplains who are confident and willing to learn from the experience of the team and who have a high level of integrity. Railway Mission operates on the basis of team; while a chaplain may have a geographical area, the railway companies operate on different geographical lines. So a single company may have several chaplains covering that company, so we need to work together.
Commitment… whether you see yourself a volunteer or in a paid post. We need dedicated, conscientious individuals that will respond to the needs of both Railway Mission and to the industry we serve. Being both reactive and proactive in your role, putting in the time and effort to give the support that is needed at the time it is needed.
Competence… So, you feel you have the calling, character and the commitment, but do you have the competence to be a chaplain. Sometime ago a person asked about working for us on a voluntary or paid basis. He said his bishop had told him he would never be able to be a parish priest, but would be okay as a chaplain. I can't comment about an individual's suitability for another area of chaplaincy, but what I can say is railway chaplaincy is unique. The railway has almost 300 fatal incidents a year, most of which are deliberate acts. The police often ask chaplains to support witnesses and bereaved family members. Add to this the life problems of thousands of people and you can soon understand the need for a high level of pastoral and interpersonal competence.
Capacity… Sometime people meet a chaplain and ask about being a volunteer. What then often happens is the chaplain tells him or her to contact the office at Rugby. They may be asked to complete an application form, but this does not mean that the person will be a volunteer chaplain. Volunteers must meet the same standard as those who work full time for the Mission. Nevertheless, assuming the individual has the call, character, commitment and competence, is there a capacity? By capacity I mean capacity on both sides.
Is there an area or a location that the individual can be used? Or put another way, is there a role to be filled. It is not enough to live near a station or depot, there needs to be sufficient work to sustain the post.
Does the person have capacity to volunteer? Many volunteers volunteer for everything; so we need to know can this person commit to the time needed whether that is a day a month or a day a week.
Over the years, there have been those who have become frustrated because they have not been offered a post as a chaplain. If you are in that group, I am sorry, but there are always reasons. Sometimes, the reasons are internal to the Mission and sometimes they are external, but usually we cannot explain what they are and this can leave some people frustrated and even angry at not being chosen.