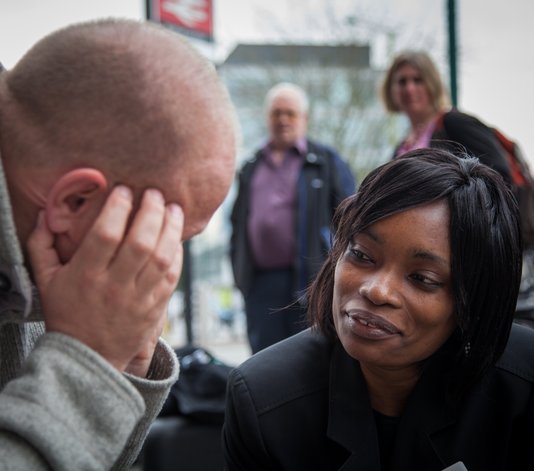 Everyone is different and grief affects everyone differently; so when friends or family are grieving, it can be difficult to know what to say. This is probably why some people avoid others who have suffered a loss. You may have heard stories of when someone suffering from grief has seen a friend cross the street rather than meet them on the path. This kind of avoidance is very hurtful but perhaps understandable when we consider that we are not always equipped to know what to say when somebody has experienced bereavement.

Nevertheless, there are some things that we can and perhaps should say.
This statement is honest and heartfelt. It lets a bereaved person know that you truly lost for words, but you care deeply for them. There's nothing you can say to take away their feelings of loss, but your words show you care and that they are not alone.
It may seem like the most obvious thing to say, but when somebody has lost a loved one, the reality is, it's also perhaps one of the most important. When the person who is bereaved is somebody we know saying "please accept my condolences" can sound formal. Expressing sorrow for an individual's loss is an acknowledgement of their grief without imposing into their feelings or the circumstances of their bereavement. This can be exactly what somebody needs at that point.
Everyone is different and can react to grief differently. A common reaction to grief is the feeling of needing to stay strong in front of others. Might be because of wanting to support what are the family members and feeling that showing strong emotions will cause them further upset. However, it is important to let people know that it is ok to cry. Crying allows the emotions to be released and letting somebody know that it is ok to cry allows them to release these emotions in a safe and secure environment. We need to allow people to express grief and to allow them the space to do so and the reassurance but they need not be embarrassed by crying in front of you.
Having already said but different people react to grief in different ways it is important to understand that some people find it difficult to express how they feel in words. Some people feel that they are obliged to talk about their loss even when it is too painful for them to do so. It is important to remember that when we are supporting someone who is suffering from bereavement we should allow space and time for silence; silence gives an opportunity to process, reflect and consider the loss they have experienced.
Following on from letting people know that they don't need to talk about their grief and loss if they don't wish to, it is also important to reinforce the message that you are there if they want to talk at any point. Remember, people, experience grief in different ways, and allowing them to open up in their own time will help them to understand but you are there for them and care for their well-being.
Letting someone know that they are not alone is very important. Being there for someone, either as a shoulder to cry on or as a reliable friend helps alleviate the feelings of isolation the people who are grieving often feel. grief can be a lonely process and having friends to share it with can help stop a Downward Spiral into depression. By offering to be there, either at the end of a phone or in-person will mean more than all the flowers and sympathy cards.
People often find it difficult to ask for help at the best of times. When somebody is suffering from grief it can be all the more difficult to look to others for assistance. It is good to offer to help with things such as shopping or cooking a meal or looking after children, it is also good to remember that some people feel the need to keep busy, it helps them to process and feel that life will continue in some kind of normality. It is good to ask if there is anything you can help with, but be careful not to impose on their grief as this may cause resentment.
Never tell someone you know how they're feeling because even if you have been through a similar bereavement, you can never experience things in the same way. You can never experience things, in the same way, to assume that you understand and know how they feel can be insensitive and hurtful. In telling them you can't imagine the pain of loss they are experiencing, you are saying that you feel for them and that you are sorry for their loss.
By telling people that they are in your thoughts and/or prayers are letting them know that you are holding them in your heart. It is important because it demonstrates don't you care and that you're thinking of them and that they are not alone. There may be some who say "what if the person who has suffered bereavement isn't religious?" It doesn't matter, what's important is the expression of care and compassion that is carried by these words.